THE REV'D VICTOR OSITADINMA NVENE
Email: victornvene@unn.edu.ng
Tel: 08063755451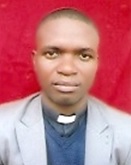 BRIEF BIOGRAPHY
 Rev. Victor Ositadinma Nvene graduated from Enugu State University of Science and Technology where he obtained his First Degree in Applied Biology and Biotechnology in 2008 and Master of Public Health Degree in 2014 from Nnamdi Azikwe University Nnewi Campus. He also have a Post graduate Diploma in Education, presently studying MSc in Public Health University of Nigeria Enugu Campus. He is a fellow Teachers Registration Council of Nigeria.
He was trained and worked for World Health Organization (WHO) as Lot Quality (LQAS) Assessment Survey for National Immunization Plus Days (NIPDS) Anambra State 2013-2016,
World Health Organization (WHO) Independent Monitor for Supplementary immunization (SIPDS) Plus Days in Anambra State 2012-2013,
World Health Organization (WHO) volunteered in process Monitor for Integrated Measles Campaign (IMC) Anambra State from 2011-2015,
World Health Organization (WHO) Volunteered end process monitor for Measles Vaccination (MVC) Campaign for WHO Awka Anambra State 2011-2015,
A consultant to Anglican Diocese of Nnewi Health and Community Development Center (ADNHCDC) on OVC.
Peer Education Training Course under the National Reproductive Health and HIV/AIDS prevention and care project through the NYSC Scheme.
He is a Anglican Priest and have served in many churches in Nnewi Diocese where he was ordained a Deacon and priested. Presently he is serving in Ebenezer Anglican church, Cathedral Archdeaconry Independence Layout Enugu Diocese. He is the workshop/linkage co-ordinator of the institute.