PROF AGUWA Emmanuel Nwabueze  (Director)
Email: emmanuel.aguwa@unn.edu.ng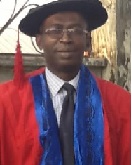 Emmanuel N. Aguwa is a Professor with the University of Nigeria Nsukka and an Honorary Consultant with University of Nigeria Teaching Hospital. He became a medical doctor in 1989 and completed his internship in 1990 and National Youth Service in 1991. Since then he has obtained degrees in Public Administration (Postgraduate diploma, 1998); Public Health (MPH [2006], a Fellow of the West African College of Physicians [2004], and a Fellow of the National Postgraduate Medical College [2004]). He has successfully taught and supervised several undergraduate and post-graduate students. He has also served as external examiner to some other Universities and is currently an examiner in the West African and National Postgraduate Medical Colleges (WACP and NPMCN). He has worked in several hospitals both private and public and has attended and presented research papers in several conferences and workshops both locally and internationally. He is also a trained WHO/TDR clinical monitor and has been involved in a clinical trial on comparing efficacy and adverse events of fixed dose versus loose dose drug combinations in tuberculosis treatment. Presently he has more than seventy publications to his credit and is a member of several university committees – some of which include University of Nigeria Teaching Hospital Ethics Committee and College of Medicine Directorate for Research and Publication. He is happily married with children.
Prof. Mrs. ONWASIGWE Chika Nwanma

Prof ONWUJEKWE Obinna E

Prof. AGHAJI Margaret N.

Prof. OKEKE Theodora

Prof. Mrs. EHIEMERE Ijeoma O.

Email: ijeoma.ehiemere@unn.edu.ng,

Tel: +2348038653650

NWAGBO Douglas F.

Dr NDU Anne C.

Dr. Mrs. EZEOKE Uchechukwu Enuma

 

Prof. UZOCHUKWU Benjamin S. Chudi

Dr. NWOBI Emmanuel Amaechi

Email: emmanuel.nwobi@unn.edu.ng

Dr. Christiandolus Oseloka Ekwueme (Associate Director)

Email: osa-eloka.ekwueme@unn.edu.ng;

Tel +2348033802295

Dr Chima Ariel Onoka

Dr. Obi Ikechukwu Emmanuel

Email: ikechukwu.obi@unn.edu.ng.

Dr. Babatunde Ishola Omotowo

Dr (Mrs) Chinyere O. Mbachu

Email: chinyere.mbachu@unn.edu.ng

Dr. Arthur Chinedu Idoko

Dr. Aniwada Elias

Email: eliasaniwada@unn.edu.ng

Dr. Chuka Agunwa

Sister (Dr) Ancilla Umeobieri

Dr (Mrs) Tochi Okwor

Email: okwortochi@yahoo.com,

Tel: +2348080803838.

Dr (Mrs) Chinyere C. Okeke

Dr Ijeoma Uchenna Itanyi

Dr Ugwunna Nwachukwu Chinedu

Dr Ntat Charles Ibiok

Dr Olanike Agwu-Umahi

Dr (Mrs) Chinyere Nkiruka Okafor (Course Coordinator)

DR Enyi Ifeoma Etiaba

OKOLI, Chijioke Ifeanyi

Mr. Ezugwu Paul Ikechukwu

Mr. Udeh, Oscar Tochukwu

Email: oscar.udeh@unn.edu.ng;

Tel: 08039557693.

Rev. Victor Ositadinma Nvene

Email: victornvene@unn.edu.ng

Tel: 08063755451