INTRODUCTION TO IOPH
The University of Nigeria is one of the foremost universities in Nigeria. In line with its track record of actively establishing relevant institutional platforms that are in the forefront of research and development, knowledge transfer, innovation and human resource development, the University of Nigeria established a department of Community Medicine in 1970. This department aimed to address critical needs in the developing area of public health, by training medical students and postgraduate students of public health. Till date, the postgraduate Master of Public Health (MPH) program which was established in 1998 has consistently admitted and trained students and has remained successful in its mission of providing the needed manpower for basic public health practice.
The establishment of the Institute of Public Health (IOPH) has been underscored by the recognition of the importance of upgrading the quality and scope of knowledge, practice and research in epidemiology, occupational and environmental health, health promotion, global health, research and action which are all required to meet the practical challenges in the provision and management of healthcare services in Nigeria and in developing countries of the world. There has also been a considerable gap in the capacity of policy makers and implementers within the health system, highlighting the need for availability of institutions that support learning and practice related to health systems, health policy and health services management.
Given the current and emerging issues in the field of public health and global development, the IOPH has been structured to help address the critical knowledge and human resource gaps that are required in public health related institutions. The training framework is aimed at explicitly combining the transfer of public health related knowledge, practical skills in appraisal and management of public health systems and interventions, and global best practices in public health research. To provide a globally competitive hub for public health learning, research and practice, the IOPH draws on the abundant academics and practitioners across the various faculties within the College of Medicine, the University of Nigeria, and other relevant external expertise.
VISION STATEMENT
To create a functional, globally competitive & research-focused University which is not just an Ivory Tower, but responsive to the needs of the society, while delivering World-class education and Knowledge.
MISSION STATEMENT
To place the University of Nigeria in the forefront of Research and development, Innovation, Knowledge Transfer and Human Resource Development in the global academic terrain, while promoting the core values which will ensure the restoration of the dignity of man.
PHILOSOPHY
In line with its mandate of providing quality training in Public Health, and in response to the pressing need that exists to expand the human resource capacity to meet the practical public health challenges in Nigeria and in other developing countries of the world, the Institute of Public Health (IoPH), College of Medicine, University of Nigeria, Enugu Campus has established a postgraduate degree programme in Public Health. The training and research provided by the IoPH is built on the philosophy of broadening and deepening the capacity of trainees, researchers and professionals for influencing decision making regarding policies and practices that advance public health using scientific knowledge, analysis and communication of evidence. Such individuals should be able to contribute positively to improving population health locally and globally.
OBJECTIVES
The objectives of the programmes are to:
1. Develop creative and independent investigators with in-depth knowledge of public health who can contribute effectively to improving disease prevention and health outcomes at individual, community and population levels
2. Develop creative and independent investigators who will be able to collaborate effectively with bench and applied scientists to improve disease prevention and treatment at both the individual and population levels in order to improve overall health outcomes of populations.
3. Develop competent, responsive and productive health systems and policy analysts and advocates that will contribute to the development, management and evaluation of international, national and local health policies, programmes and organizational practices in order to improve health systems
4. Provide students with a good understanding of the principal theories, methods and interventions used in health promotion and communication and interaction between the environment and health, and health risks in occupational and non-occupational environments
5. Produce graduates that can identify and analyze ethical, social and legal controversies consequent on biomedical practice and research and have skills to state a clear position on a moral issue.
LOCATION
The IOPH is located in Enugu, Enugu state, which serves as the historical capital city of southeastern Nigeria and is notable for coal mining (see further information about Enugu in the Appendix). The IOPH is currently temporarily located at the facilities of the College of Medicine of the Enugu Campus of University of Nigeria (popularly known as the Old UNTH Complex). Apart from providing accommodation for academic and non-academic staff, the building provides some learning and teaching space for medical students and postgraduate students. It is hoped that the IOPH will move to a permanent site in the near future.
BASIC FACTS ABOUT ENUGU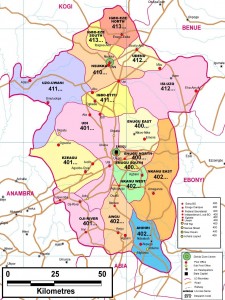 Enugu state is an inland state in South-East Nigeria created August 27, 1991 from the old Anambra State. It shares boundaries with Anambra state on the West, Abia State to the South, Kogi state to the North while Benue state and Ebonyi state are to the East. The state is made up of 17 local government councils occupying a land mass of 7,161 sq km with a total population of 3,267,837 (2006 census) and a population projection of 4,469,054 for 2016 (based on a 3.18% annual growth rate).
The residents are predominantly Igbo speaking mixed with non-Igbo speaking immigrants. There are several institutions of higher learning in the state including the University of Nigeria Nsukka, the Enugu State University of Science and Technology, the Institute of Management and Technology, Enugu; College of Education Enugu, College of Agriculture, Ikwo and a host of established and upcoming privately owned higher institutions namely Caritas University, Renaissance University and OSISATECH a polytechnic.
The business atmosphere of Enugu is a very busy one with sizeable number of residents engaged in white collar jobs while most others are either students or traders.
The State Ministry of Health is organized into 2 subunits:
1. Policy Development and Planning Directorate
2. Enugu State Health Management Board
The Policy Development and Planning Directorate is made up of 7 directorates: public health, nursing services, medical services, finance, pharmacy, administration, directorate of planning research and statistics. It is primarily concerned with overall strategic and operational policy development. The State Health Management Board is concerned with overall monitoring and evaluation of service delivery and coordination of the activities of the District Health Boards. The SHMB is chaired by a Hospital Administrator.
Altogether there are 851 health facilities in Enugu State, 513: 462 PHC, 47 secondary (cottage and district hospitals) 4 tertiary are public health facilities in the state. Three of the tertiary health facilities are owned by the Federal Government and one is state owned. The private sector is an important player in the health sector in Enugu State making up approximately 40% (338) versus the 60% that are public health facilities.
Priority Health Conditions; The State's Strategic Health Development Plan identified HIV/AIDS response (prevalence 5.8%; National Sentinel Survey 2008), Child mortality improvement (<5 Mortality Rate: 95/1000LB), maternal mortality improvement and malaria control as priority areas for intervention.